:::
Xizhi Branch
Address: 8F., No.268, Sec. 1, Xintai 5th Rd., Xizhi Dist., New Taipei City 221221, Taiwan (R.O.C.) 
Telephone:(02)86432288
Transportation
Railway:Get off at Xizi station then walk about 10 minutes to the Xiufeng Road
Bus: take 675. 907. Blue 15 and get off at Xizi District Hall station (via Xintaiwu Road)

New Provincial Highway 5,Get off at Xizhi District Administrative Center station or District office station:
A.New Provincial Highway 5:blue 15. 823. 907. 951.
B.free community bus:901. 912. 915.
C.Keelung Bus:1031Keelung-Zhang Shu Wan(New Provincial Highway 5)
Datong line:
blue 22. 311. 605. 629. 668. Keelung Bus 1032. Get off at Xizi station.
Walk about 15 minutes to Xintai 5th Road and Go forward to Xizi District Administration Building 8F.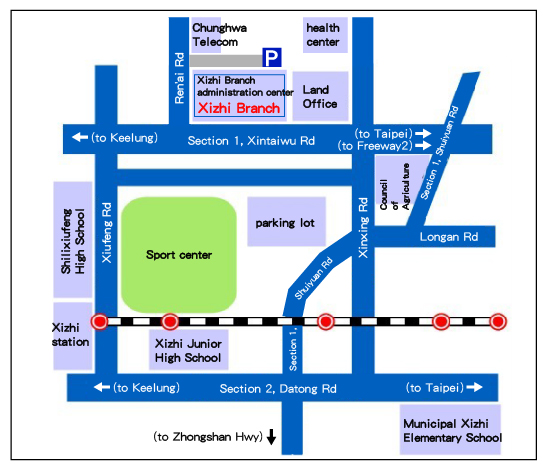 Date:2018-08-28
Department:Planning Service Division
Update:2022-11-03
Count Views:2595